Burbank Junk Removal
Precise Junk Removal is the local company near you for all your junk removal in Burbank, CA needs.
Full-Service
Burbank Junk Removal
Are you looking for a local company for junk removal in Burbank, CA? Then say hello to Precise Junk Removal, your community's junk removal experts!
Our full-service pros aren't just happy to work for you, they're lightning fast, too. We make junk vanish in a flash!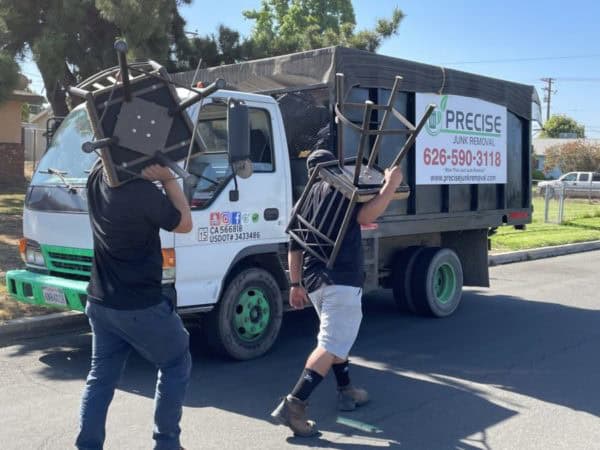 Your Local Junk Removal Company
When you're tired of franchises treating you wrong, come to Precise Junk Removal and get the respect you deserve!
Courteous. We treat you the way we'd treat a neighbor. We're on time, hardworking, and always happy to see you.
Full-service. Don't bother yourself with any of the heavy lifting. We'll provide the physical labor.
Thorough. Not only do we haul away all your junk, but we double-check to make sure we got it all and sweep the floors, too.
Eco-friendly. To reduce our impact on the environment, we recycle and donate as much of the junk we collect as possible!
Cost of Junk Removal in Burbank
Junk removal in Burbank, CA is affordable and fairly priced when Precise Junk Removal is on the case.
Upon our arrival, let us know all the junk you'd like to get rid of to get an upfront service quote!
We price our services according to how much junk you need hauled away, ensuring a fair rate.
Accept our quote, and we'll get to work, never charging you any hidden fees along the way.
At the appointment's end, you can pay using cash, a check, or a card. We also accept Venmo and Zelle payments.
ITEMS WE TAKE
Appliances
Construction debris
Yard waste
Electronics and TVs
Exercise equipment
Bagged trash
Mattresses
Recyclables
Grills
OUR BURBANK JUNK REMOVAL PROCESS
SCHEDULE NOW
First things first, get started by scheduling your appointment! You can do this by either booking online or calling us at 626-590-3118.
COURTESY CALL
When we're en route, you'll receive a courtesy call from us as a heads-up. Upon our arrival, we'll take a look at the junk, give you an upfront quote, then begin our work.
SETTLING UP
We work swiftly so you aren't tied up with us all day. Once we're done, we'll simply process your payment before hitting the road!
REVIEWS
Angel was very professional in all of our communication. The crew worked quickly and went over and beyond in cleaning up the small pieces of debris that were left in the yard and in the driveway. Well done and thank you!

I received 6 different quotes from separate businesses and Precise responded the quickest. They were also the best priced. They were very flexible and understanding about my schedule and their customer service is great! I highly recommend their services.

Very quick and efficient. I needed to get rid of my couch and these guys made the removal process so easy. I highly recommend them 🙂

I spoke with Angel, and he was courteous and professional. He quoted us a reasonable price. The two man crew took care of the load very quickly. Would definitely recommend.

Angel and his crew were prompt, reasonably priced and extremely professional — they removed a shed and metal shelves from my property in less than an hour and left my backyard looking better than ever. I highly recommend them to anyone in need of junk removal!

Angel good guy, fair price considering the cost of just a bin rental. Listened to carefully to my request, team removed all including sweeping up small residue. Left very clean considering the debris.

Angel at Precise Junk Removal was incredibly responsive, courteous and prompt. He and his team went the extra distance to completely remove 8 cubit feet of dirt and grass, leaving the area spotless. I heartily recommend them, and will call on them again in the future.

Angel just picked up all my scrap metal. He texted me when he was on the way and he showed up on time. Thank you very much Angel and Precise Junk Removal.

Great service! They came right on time and got to work. Very polite and friendly service. I would recommend to my neighbor.

Carlos and Richard are very professional, punctual and thorough in their service. I would highly recommend using Precise Junk Removal for any and all of your cleanup/household needs.

Angel and crew were available when asked and showed up on time. Got the work done quickly. Highly recommend this company! Will definitely use them again.

The team responded to my request immediately, and came within an hour of first contacting them. They are gracious, professional, respectful, and thorough. I will call them again for other jobs.

What can I say? I am highly impressed! First of all the response time can't be beat. I sent a message on Yelp and they responded right away. They were at my house the very next day to give me a quote and do the job if I liked the quote. The quote was unmatched! When they told me the pricing I couldn't believe it and they were in and out. Adrian and Angel were polite and professional. They did the job without haste. I felt bad for them because it was so hot outside (I had to give them some cold water) but they had no complaints! I would definitely recommend and also use them again in the future. Thank you Precise Junk Removal and Thank you Adrian and Angel for your service!

This business was fantastic. I was able to book an estimate online. The crew called ahead of coming, showed up on time, gave me an estimate ahead of service, a good price and a thorough job! I cannot recommend them enough! Thank you Angel and crew!

These guys were great – the booking process was super easy! I was able to get someone to me the same day and the team showed up on time, after letting me know they were on the way.

They reiterated the pricing process that had been explained to me on the phone and gave me a fair price for the removal of my items. once I gave them the green light, they got to work and got all the items out quickly!

I would absolutely recommend them to anyone looking for efficient, affordable removal services and will definitely use them again in the future!

Excellent customer service from the first phone call. Arrived right on time. Angel and Chris were true professionals. Got the job done faster than their estimate and went above and beyond to leave the yard as clean as they found it. Will definitely recommend this company to anyone looking for this service.

Adrian and Kevin did a great job! They were very friendly and professional. The price was very good, and the service was fast. We'll definitely call this business again. Highly recommended!

Wonderful experience with Precise Junk Removal. Angel was very prompt with contacting me and scheduling the appointment. They removed some old furniture in preparation for an upcoming move and the process could not have been easier. I highly recommend them!

Great service! Arrived at beginning of appointment time slot. Very courteous, good price. Immediately did job and cleaned up. Will definitely use them again

I had a great experience with Precision! I inadvertently left a 2.5 pound hammer in the junk pile and instead of throwing it into the back of their truck or claiming it, they left it on my front porch! I've used them twice and 10/10 would use them again.

Angel and Freddie were on time, friendly, and efficient. Getting a cost estimate and setting up my removal appointment was easy and stress-free too. Highly recommend!

They were fast and responsive, stuck to the quote and super friendly! 😀 I would definitely call them again for my removal needs. I rather use them then those big corporate ones that nickel and dime you for every little thing.